2019 CVFSA Conference Highlights
This year, the annual CVFSA Conference & AGM was again hosted by the Kings County Firefighters Association in beautiful Wolfville, Nova Scotia. We would like to once again recognize and thank them for their leadership and tireless efforts to support such an outstanding event.
In advance of the Conference & AGM beginning, your CVFSA Board held two days of business meetings on the University of Acadia Campus. This included the elections for term positions within the Board which is now as follows:
President – Troy Mutch
Vice President – Wayne Jasper
NS Director – Paul Maynard
Western Director – Alex Pavcek
Atlantic Director – Mike Lockhart
Director at Large – Jerrold Lemko
CVFSA Ambassador – Brian Starkell
We are also pleased to announce that Jamie Coutts was appointed as an ambassador of the CVFSA. The Board conducted a review of our strategic planning and future projects. The Board is excited about continuing to grow the Association and serve our members. In support of that, the Board invited Brent Barootes, President and CEO of the Partnership Group – Sponsorship Specialists – to share his thoughts on sponsorship professional development opportunities, including grant applications, sponsorship and philanthropy donations. This will be a major undertaking should the Board decide to move in this direction.
The Board members and partners also attended a wonderful evening at Gaspereaux Wineries, just outside of Wolfville and we want to express our thanks to Metalfab who sponsored this supper.
On our second day of business meetings, we examined a number of different initiatives including:
A review of the "Lifetime Achievement Award" – This included an update on the status of the program and budget. 2019 had a record number of applications for the award and Duracell has committed to continue sponsoring this award.
Memorial Grant Program for First Responders – The CVFSA has been approached by Public Safety Canada to be a resource to families of fallen volunteer firefighters when applying for the Memorial Grant, a $300, 000 grant provided to families of first responder who suffer a line of duty death. We are learning more in order to make an informed decision.
Canadian Fallen Firefighter Memorial Weekend – The Board reviewed the continued sponsorship of the Canadian Fallen Firefighter Memorial Weekend. The CVFSA has a seat on the CFFF Board and are proud to continue supporting this worthy cause. This year our CFO John McKee, Ontario Director Carl Pearson and  VP Wayne Jasper were all in Ottawa for the CFFF Memorial weekend.
Hosting the Annual Conference & AGM – There is interest from a number of potential hosts for future CVFSA conferences. The Board wants to move the conference around the country in hope of reaching out to volunteer firefighters. Plans are underway for next year's conference to be held in the west, once plans are finalized an announcement will be released
Fire Department Audits – Former Lesser Slave Lake Chief, Jamie Coutts presented a new proposal to the Board on behalf of our sponsor, Sea Hawk Specialized Truck Services. Sea Hawk is looking at a new business venture to provide assessments of fire departments through an audit program. These audits will cover off all aspects of a fire department and serve as a vital tool for identifying areas needing improvements as well as strengths within the department
Firefighter Certification – Another presentation was made to the CVFSA from a potential partner, NorQuest College. NorQuest College, located in Edmonton is offering a NFPA 1001 Firefighter Certification Program and is looking to partner with CVFSA.
Thursday evening was one of the highlights of the conference – the Wolfville Fire Department Steak & Lobster dinner. It took place in the firehall full of firetrucks, firefighters, friends and all the lobster you can eat … nothing can compare!
On Friday morning, we continued to meet as a Board that included reviewing presentations, voting on our plans moving forward, reviewing the AGM meeting plans, and the obligatory Board of Director photos. In the afternoon, our meetings ended and we were able to participate in the conference with the rest of the attendees.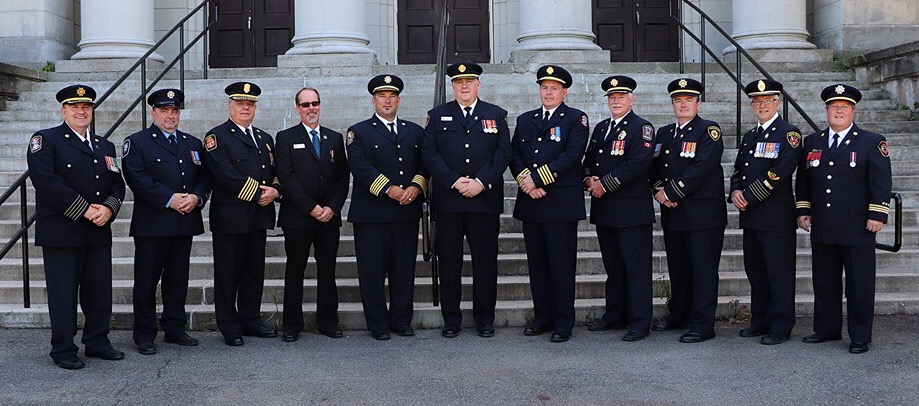 As you would have seen from the Conference Program, we had a broad cross-section of hands-on training for attendees. Among the highlights were:
Fighting the Interface Fire, Fire Chief Jamie Coutts, Lesser Slave Lake Regional Fire Servic
Spec'ing a Fire Apparatus for your Department, Ben Vanderzwaag, GM, Sea Hawk Specialized Truck Service
Emergency Responder Mental Health, Deputy Chief Wayne Jasper, Anarchist Mountain Fire Department
From Hardhat to Fire Helmet: The Sprinkler Connection, Firefighter Peter Simpson, Dayspring and District Fire Department, NS
Saturday was comprised of our Awards Ceremonies, Keynote Speakers, and Annual General Meeting.
It began with a moving and remarkable opening prayer by Elder Lorraine Whitman from the Mi'kmaq – First Nation communities.
Long Service awards were presented to local recipients including:
Kingston Fire Chief Watson Armstrong with 40 years of service
Ronald Starrett from Hantsport Fire with 30 years
John MacKeen (Former Deputy Chief) who received his CVFSA Municipal Long Service Medal for 50 years of service to the community of Greenwich. John has continuously served with GFD for 53 years!
This year's Lifetime Achievement Award Winner was Retired Chief Martin Bell. It was an easy decision for the LAA committee. Martin has been with the CVFSA since its inception and continues to be a leader and mentor in his community.
The conference participants were then given a moving and emotional presentation from Nipawin Saskatchewan Chief Brian Starkell, who was the Incident Commander of the tragic Humboldt Bus accident.
We also welcomed back Daryl Black of Exigent Academy who gave a captivating and motivating speech on leadership.
This was the 20th anniversary of the CVFSA and collectively we witnessed a very well organized and well attended conference that was full of opportunities for each of us to learn from one another and to continue to strengthen the CVFSA.