Past Recipients Long Service Award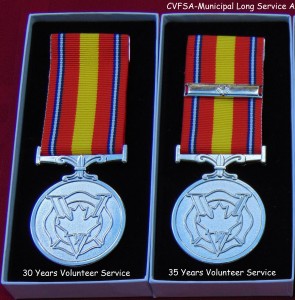 The medal is available from the CVFSA to municipal units who wish to recognize members of their volunteer firefighting community. This medal ensures that a national standard is maintained as to appearance, presentation, and awarding of such a medal. Municipal units can include incorporated villages, hamlets, towns, cities, and government structures, below the federal and provincial territorial level.
Eligibility & Criteria:
Eligible candidates must meet the following criteria:
 Must be alive on the date on which a nomination was submitted and the medal can be presented posthumously as long as the medal has been awarded within 365 days of the death of an individual named on the nomination.
 The medal can only be awarded through a nomination form signed by the nominator. Nominator must be an active fire chief of the individual nominated or the mayor (or similar authority) of the municipality of the individual being nominated.
 The medal is not available to an individual by sale as a product, as medals will not be sold to individuals.
 The medal is to honour volunteer firefighters or firefighters that provide service to their communities without payment of regular wages or as non-career firefighters. The individual must have completed at least 30 years of service in the performance of their duties involving potential risks.
 There are no post-nominal authorized with this medal.
 The National Board of the CVFSA reserve the right to award by majority to an outstanding individual as deemed appropriate. A Bar(s) bearing a stylized maple leaf (standard) or a symbolic emblem as approved by the host municipal unit may be awarded to a recipient of the medal for each additional five year period of service up to 50 years' service.
Application Download (PDF)
Info (PDF)
Description of the Medal: A circular medal with the CVFSA registered logo on the obverse side and with a municipal logo on the reverse side or a second CVFSA logo bearing the number 30 (or 30 Years Service)
AWARD WINNERS 2021 Medal Recipients
Deputy Chief (Ret.) Wade E. Pile
East Wellington Fire Department
City of Nanaimo, British Columbia
Awarded: March 12, 2021
38 years of service
Assistant Chief Russell A. McCallum
East Wellington Fire Department
City of Nanaimo, British Columbia
Awarded: March 12, 2021
40 years of service
Fire Chief (Ret.) Stephan William Ellis
East Wellington Fire Department
City of Nanaimo, British Columbia
Awarded: March 12, 2021
41 years of service
Deputy Chief (Ret.) Vincent W. Morgan
East Wellington Fire Department
City of Nanaimo, British Columbia
Awarded: March 12, 2021
50 years of service
Deputy Chief D. James Hart
Warwick Fire and Rescue
Township of Warwick, Ontario
Awarded: January 10, 2021
30 years of service
Captain Gregory L.E. Trites
Riverview Fire & Rescue
Town of Riverview, New Brunswick
Awarded: January 19, 2021
33 years of service
Deputy Chief James L. Atkinson
Parrsboro Volunteer Fire Department
Town of Parrsboro, Nova Scotia
Awarded: January 20, 2021
45 years of service
Engineer John Henwood
Parrsboro Volunteer Fire Department
Town of Parrsboro, Nova Scotia
Awarded: January 20, 2021
45 years of service
Deputy Chief Raymond Coderre
Stoughton/Tecumseh Fire Department
Town of Stoughton, Saskatchewan
Awarded: January 22, 2021
45 years of service
Fire Chief Pat J. Slater
Stoughton/Tecumseh Fire Department
Town of Stoughton, Saskatchewan
Awarded: January 22, 2021
40 years of service
Deputy Chief Randy A. Coderre
Stoughton/Tecumseh Fire Department
Town of Stoughton, Saskatchewan
Awarded: January 22, 2021
35 years of service
Deputy Chief S. Doug Turner
Stoughton/Tecumseh Fire Department
Town of Stoughton, Saskatchewan
Awarded: January 22, 2021
35 years of service
Fire Chief (Ret.) Brian A. Starkell
Nipawin Fire Department
Town of Nipawin, Saskatchewan
Awarded: January 22, 2021
43 years of service
AWARD WINNERS 2020 Medal Recipients
Deputy Chief Joe W. Huntley
New Minas Fire Department
Mun. of the County of Kings, Nova Scotia
Awarded: January 31, 2020
30 years of service
Assistant Chief Mark E. Redmond
New Minas Fire Department
Municipality of the County of Kings, Nova Scotia
Awarded: January 31, 2020
30 years of service
Firefighter Lindsey M. Poehl
New Minas Fire Department
Mun. of the County of Kings, Nova Scotia
Awarded: January 31, 2020
30 years of service
Captain Todd A Arenburg, MFR
Bridgewater / Midville Branch Fire Dept.
Town of Bridgewater, Nova Scotia
Awarded: March 23, 2020
38 years of service
Firefighter Joseph L. Kempton
Semans Volunteer Fire Department
Village of Semans, Saskatchewan
Awarded: April 11, 2020
42 years of service
Firefighter Peter Darbyshire
Christina Lake Fire Rescue
Regional District of Kootenay, British Columbia
Awarded: April 24, 2020
37 years of service
Firefighter Ronald McGregor
Christina Lake Fire Rescue
Regional District of Kootenay, British Columbia
Awarded: April 24, 2020
35 years of service
Captain Keith A. Fulton
Stewiacke & Dist. Vol. Fire Dept.
Town of Stewiacke, Nova Scotia
Awarded: May 2, 2020
38 years of service
Firefighter Red Bosscha
Keremeos & Dist. Vol. Fire Dept.
Village of Keremeos, British Columbia
Awarded: May 4, 2020
40 years of service
Firefighter Robert J. Beatch
North Battleford Fire Department
City of North Battleford, Saskatchewan
Awarded: May 20, 2020
30 years of service
Firefighter Brent D. Murdock
Stewiacke & District Vol. Fire Dept.
Town of Stewiacke, Nova Scotia
Awarded: May 20, 2020
37 years of service
Joanne M. Fulton, MFR
Stewiacke & District Vol. Fire Dept.
Town of Stewiacke, Nova Scotia
Awarded: May 20, 2020
34 years of service
Firefighter Larry E. Smith
Greenwich Volunteer Fire Department
Mun. of the County of Kings, Nova Scotia
Awarded: June 15, 2020
30 years of service
Fire Chief Bradley Boddez
Morinville Fire Services
Town of Morinville, Alberta
Awarded: June 15, 2020
32 years of service
Fire Chief Robert (Bob)Graham
Oliver Fire-Rescue Department
Town of Oliver, British Columbia
Awarded: February 16, 2020
31 years of service
Firefighter Walter F. Despot
Keremeos & Dist. Vol. Fire Dept.
Village of Keremeos, British Columbia
Awarded: June 16, 2020
40 years of service
Firefighter S. Jordy Bosscha
Keremeos & District Vol. Fire Dept.
Village of Keremeos, British Columbia
Awarded: June 16, 2020
32 years of service
Firefighter John E. Slader
Keremeos & District Vol. Fire Dept.
Village of Keremeos, British Columbia
Awarded: June 16, 2020
32 years of service
Firefighter Gregory A. Eaton
Keremeos & District Vol. Fire Dept.
Village of Keremeos, British Columbia
Awarded: June 16, 2020
30 years of service
Douglas Hamer, CFO
Salisbury Fire Rescue
Village of Salisbury, New Brunswick
Awarded: June 17, 2020
47 years of service
Fire Chief David W. Bannister
Salisbury Fire Rescue
Village of Salisbury, New Brunswick
Awarded: June 17, 2020
37 years of service
Deputy Chief Wayne Kitchen
Salisbury Fire Rescue
Village of Salisbury, New Brunswick
Awarded: June 17, 2020
30 years of service
Captain Robert (Bob) Patterson
Qualicum Beach Fire Department
Town of Qualicum Beach, British Columbia
Awarded: September 03, 2020
33 years of service
Firefighter Brian Hale
Qualicum Beach Fire Department
Town of Qualicum Beach, British Columbia
Awarded: September 03, 2020
30 years of service
Firefighter Marc Watson
Qualicum Beach Fire Department
Town of Qualicum Beach, British Columbia
Awarded: September 03, 2020
30 years of service
Firefighter James (Jim) Meldrum
Lesser Slave Regional Fire Service
Town of Slave Lake, Alberta
Awarded: September 11, 2020
36 years of service
Captain David Rockwell
Morinville Fire Services
Town of Morinville, Alberta
Awarded: September 18, 2020
50 years of service
Captain Robert Ducharme
Taber Fire Department
Town of Taber, Alberta
Awarded: September 18, 2020
30 years of service
Fire Chief Kurtis A. Dyck
Martensville Fire Department
City of Martensville, Saskatchewan
Awarded: September 25, 2020
30 years of service
Firefighter James T. Williams
Wilkie and District Fire Department
RM of Tramping Lake, No. 380, Saskatchewan
Awarded: October 03, 2020
36 years of service
Fire Chief Randy M. Elder
Wilkie and District Fire Department
RM of Tramping Lake, No. 380, Saskatchewan
Awarded: October 03, 2020
35 years of service
Fire Chief Duane S. Antle
Come By Chance Fire Department
Town of Come By Chance, Newfoundland and Labrador
Awarded: December 16, 2020
25 years of service
Firefighter Mark W. Iceton
Whitehorse Fire Department
City of Whitehorse, Yukon
Awarded: December 21, 2020
47 years of service
Captain Ronald G. McEachern
Riverview Fire and Rescue
Town of Riverview, New Brunswick
Awarded: December 21, 2020
40 years of service
Firefighter Terry D. Mezger
Lesser Slave Regional Fire Service
MD of Lesser Slave River, Alberta
Awarded: December 22, 2020
30 years of service
Fire Chief Gregory Halladay
Front of Yonge Fire Services
Township of the Front of Yonge, Ontario
Awarded: December 22, 2020
45 years of service
Firefighter Ken Hart Oppold
Whitehorse Fire Department
City of Whitehorse, Yukon
Awarded: December 21, 2020
31 years of service
AWARD WINNERS 2019 Medal Recipients
Fire Chief (Retired) Darrell R. Locke
Shelburne Volunteer Fire Department
Town of Shelburne,, Nova Scotia
Awarded: May 04, 2019
42 years of service
Firefighter Kenneth E. Deschamp
Shelburne Volunteer Fire Department
Town of Shelburne, Nova Scotia
Awarded: May 04, 2019
30 years of service
Training Officer Theodore K. Lucas
Thorold Fire & Emergency Services
Town of Thorold, Ontario
Awarded: March 22, 2019
47 years of service
Deputy Chief Edgar L. Allison
Shelburne Volunteer Fire Department
Town of Shelburne, Nova Scotia
Awarded: April 05, 2019
50 years of service
Captain Michael Locke
Shelburne Volunteer Fire Department
Town of Shelburne, Nova Scotia
Awarded: April 05, 2019
41 years of service
Lieut. (Retired) Mike D. Knickle
Shelburne Volunteer Fire Department
Town of Shelburne, Nova Scotia
Awarded: February 10, 2019
32 years of service
Firefighter Sinclair H. Locke
Shelburne Volunteer Fire Department
Town of Shelburne, Nova Scotia
Awarded: February 10, 2019
31 years of service
Firefighter John O. Webb
North Cowichan Fire Dept. – Crofton Hall
Municipality of North Cowichan, British Columbia
Awarded: April 01, 2019
40 years of service
Captain Raymond M. Ross
Walton Shore Fire Department
Municipality of East Hants, Nova Scotia
Awarded: April 17, 2019
40 years of service
Captain John W. Reynolds
Port Hawkesbury Volunteer Fire Department
Town of Port Hawkesbury, Nova Scotia
Awarded: May 01, 2019
52 years of service
Firefighter Wayne Ropson
Roddickton-Bide Arm Fire Department
Town of Roddickton-Bide Arm, Newfoundland and Labrador
Awarded: April 27, 2019
35 years of service
Veteran VFF Lawrence G. Nunn
Walton Shore Fire Department
Pembroke, Municipal District of West Hants, Nova Scotia
Awarded: October 21, 2019
45 years of service
Fire Chief Brian Minhinnick
Tisdale Fire Department
Town of Tisdale, Saskatchewan
Awarded: April 30, 2019
45 years of service
Fire Chief (Retired) Dale W. Sellers
Port Hawkesbury Volunteer Fire Department
Town of Port Hawkesbury, Nova Scotia
Awarded: May 01, 2019
42 years of service
Firefighter Terry Edward Frail
Rawdon District Volunteer Fire Department
Municipality of East Hants, Nova Scotia
Awarded: April 04, 2019
30 years of service
Firefighter Ernest Leon Blois
Enfield Volunteer Fire Department
Municipality of East Hants, Nova Scotia
Awarded: April 04, 2019
30 years of service
Firefighter Brian Stephen Supple
Uniacke & District Volunteer Fire Department
Municipality of East Hants, Nova Scotia
Awarded: April 04, 2019
30 years of service
Firefighter David Michael Winter
Rawdon District Volunteer Fire Department
Municipality of East Hants, Nova Scotia
Awarded: April 04, 2019
30 years of service
Firefighter Kenneth G. Dolliver
Shelburne Volunteer Fire Department
Town of Shelburne, Nova Scotia
Awarded: August 09, 2019
30 years of service
Dep. Chief Paul C. Maynard, B.Sc., MFR
Hantsport Fire Department
Hantsport, Municipality of West Hants, Nova Scotia
Awarded: November 29, 2019
30 years of service
Firefighter Terry G. Hamilton
Annapolis Royal Vol. Fire Department
Municipality of the County of Annapolis, Nova Scotia
Awarded: November 16, 2019
40 years of service
Firefighter Malcolm E. Francis
Annapolis Royal Vol. Fire Department
Municipality of the County of Annapolis, Nova Scotia
Awarded: November 16, 2019
39 years of service
Firefighter Brian K. Oliver
Annapolis Royal Vol. Fire Department
Municipality of the County of Annapolis, Nova Scotia
Awarded: November 16, 2019
39 years of service
Firefighter Dwayne R. Barteaux
Annapolis Royal Vol. Fire Department
Municipality of the County of Annapolis, Nova Scotia
Awarded: November 16, 2019
30 years of service
Driver/Operator Marty M. Ross
Walton Shore Fire Department
Municipal District of West Hants, Nova Scotia
Awarded: November 20, 2019
31 years of service
Captain John F. Berry
North Queens Fire Association
Region of Queens Municipality, Nova Scotia
Awarded: October 12, 2019
30 years of service
Firefighter Scott R. Hawkes
North Queens Fire Association
Region of Queens Municipality, Nova Scotia
Awarded: October 12, 2019
30 years of service
Firefighter Garnet Davison
Brooklyn Volunteer Fire Department
Municipal District of West Hants, Nova Scotia
Awarded: October 21, 2019
50 years of service
Firefighter Royce D. Spencer
Summerville & District Vol. Fire Dept.
Municipal District of West Hants, Nova Scotia
Awarded: October 21, 2019
48 years of service
Veteran Ronald B. Spencer
Summerville & District Vol. Fire Dept.
Municipal District of West Hants, Nova Scotia
Awarded: October 21, 2019
55 years of service
Firefighter Henry Recker
Brooke Fire Rescue
Mun. of Brooke-Alvinston, Ontario
Awarded: September 11, 2019
30 years of service
Fire Chief Christopher L. Spencer
Summerville & District Vol. Fire Dept.
Municipal District of West Hants, Nova Scotia
Awarded: October 21, 2019
35 years of service
Firefighter Steven R. Weaver
Summerville & District Vol. Fire Dept.
Municipal District of West Hants, Nova Scotia
Awarded: October 21, 2019
32 years of service
Firefighter Donald W. Spencer
Summerville & District Vol. Fire Dept.
Municipal District of West Hants, Nova Scotia
Awarded: October 21, 2019
44 years of service
Firefighter Jeffrey G. Spencer
Summerville & District Vol. Fire Dept.
Municipal District of West Hants, Nova Scotia
Awarded: October 21, 2019
30 years of service
Firefighter Phillip Baker
Brooklyn Volunteer Fire Department
Municipal District of West Hants, Nova Scotia
Awarded: October 21, 2019
35 years of service
Firefighter Joe Bahri
Brooklyn Volunteer Fire Department
Municipal District of West Hants, Nova Scotia
Awarded: October 21, 2019
33 years of service
Captain Tim Frenette
Brooklyn Volunteer Fire Department
Municipal District of West Hants, Nova Scotia
Awarded: October 21, 2019
33 years of service
Dep. Chief (Retired) Barrie Wile
Brooklyn Volunteer Fire Department
Municipal District of West Hants, Nova Scotia
Awarded: October 21, 2019
41 years of service
Firefighter Duncan E Keddy
Pleasantville & District Fire Department
West LaHave, MODL, Nova Scotia
Awarded: January 19, 2019
30 years of service
Firefighter Brian A. Shay
Hantsport Fire Department
Municipal District of West Hants, Nova Scotia
Awarded: October 21, 2019
44 years of service
Firefighter Tony Feener
Lunenburg & District Fire Department
Lunenburg, Nova Scotia
Awarded: January 26, 2019
40 years of service
Firefighter Richard V. Shay
Hantsport Fire Department
Municipal District of West Hants, Nova Scotia
Awarded: October 21, 2019
44 years of service
Firefighter Kevin Corkum
Lunenburg & District Fire Department
Lunenburg, Nova Scotia
Awarded: January 26, 2019
35 years of service
Firefighter Frederick G. Marshall
Summerville & District Vol. Fire Dept.
Municipal District of West Hants, Nova Scotia
Awarded: October 21, 2019
34 years of service
Fire Chief Darryl Tkach
Veteran Vol. Fire & Rescue
Village of Veteran, Alberta
Awarded: November 15, 2019
30 years of service
Driver/Operator Ray M. Ross
Walton Shore Fire Department
Municipal District of West Hants, Nova Scotia
Awarded: October 21, 2019
31 years of service
Dispatcher Gregory P. Lake
Windsor Fire Department
Town of Windsor, Nova Scotia
Awarded: October 21, 2019
41 years of service
Driver/Operator Eddie M. Fleet
Windsor Fire Department
Town of Windsor, Nova Scotia
Awarded: October 21, 2019
30 years of service
Driver/Operator Ron E. Johnson
Windsor Fire Department
Town of Windsor, Nova Scotia
Awarded: October 21, 2019
31 years of service
Driver/Operator Barry M. Boyd
Windsor Fire Department
Town of Windsor, Nova Scotia
Awarded: October 21, 2019
33 years of service
Firefighter Ronald V. Starratt
Hantsport Fire Department
Municipal District of West Hants, Nova Scotia
Awarded: October 21, 2019
30 years of service
Capitaine Marcel Pilon
Service des Incendies de Clarence-Rockland
Town of Rockland, Ontario
Awarded: February 2, 2019
30 years of service
Chief Peter D. Johnstone
Hantsport Fire Department
Municipal District of West Hants, Nova Scotia
Awarded: October 21, 2019
30 years of service
Fire Chief Paul J. Hayes
Tri District Fire Rescue
Laconia, MODL, Nova Scotia
Awarded: February 2, 2019
31 years of service
Firefighter Cyril Durling
Nictaux & District Vol. Fire Department
County of Annapolis, Nova Scotia
Awarded: December 7, 2019
47 years of service
Retired Fire Chief Karl R. Meisner
Tri District Fire Rescue
Chelsea, MODL, Nova Scotia
Awarded: February 2, 2019
31 years of service
Driver/Operator Edward A. Porter
Nictaux & District Vol. Fire Department
County of Annapolis, Nova Scotia
Awarded: December 12, 2019
38 years of service
Firefighter Gerald Corkum
Midville & District Fire Department
Upper Branch, MODL, Nova Scotia
Awarded: February 2, 2019
45 years of service
Fire Chief Sheldon B. Nichols
Nictaux & District Vol. Fire Department
County of Annapolis, Nova Scotia
Awarded: December 7, 2019
37 years of service
Captain Lorraine Hebb
Midville & District Fire Department
Midville Branch, MODL, Nova Scotia
Awarded: February 2, 2019
45 years of service
Firefighter Kevin Balcom
Nictaux & District Vol. Fire Department
County of Annapolis, Nova Scotia
Awarded: December 7, 2019
33 years of service
Captain Wayne Wentzell
Midville & District Fire Department
Auburndale, MODL, Nova Scotia
Awarded: February 2, 2019
45 years of service
Firefighter Warren Sabean
Nictaux & District Vol. Fire Department
County of Annapolis, Nova Scotia
Awarded: December 7, 2019
34 years of service
Captain Alan K. Peveril
Lapland & District Fire Department
Lapland, MODL, Nova Scotia
Awarded: February 2, 2019
35 years of service
Firefighter Mark L. Veinotte
Nictaux & District Vol. Fire Department
County of Annapolis, Nova Scotia
Awarded: December 7, 2019
32 years of service
Captain Glenn Walker
Lapland & District Fire Department
Lapland, MODL, Nova Scotia
Awarded: February 2, 2019
35 years of service
Lieutenant Andrew J. Blackmer
Shelburne Volunteer Fire Department
Town of Shelburne, Nova Scotia
Awarded: December 12, 2019
30 years of service
Dispatcher David J Bernhardt
Inuvik Fire Department
Town of Inuvik, Northwest Territories
Awarded: February 2, 2019
38 years of service
Firefighter Troy Bruce
Kingston District Fire Department
Municipal District of West Hants, Nova Scotia
Awarded: December 20, 2019
30 years of service
Firefighter Stephen Harry
Kingston District Fire Department
Municipal District of West Hants, Nova Scotia
Awarded: December 20, 2019
30 years of service
Firefighter Terry Hearn
Kingston District Fire Department
Municipal District of West Hants, Nova Scotia
Awarded: December 20, 2019
30 years of service
AWARD WINNERS 2018 Medal Recipients
Firefighter Gregory Lee
Bonny River Fire Department
Bonny River, Nova Scotia
Awarded: March 8, 2018
35 years of service
Fire Chief Darren Romkey, ICP
Lunenburg & District Fire Department
Town of Lunenburg, Nova Scotia
Awarded: April 21, 2018
30 years of service
Firefighter Brian Church
Lunenburg & District Fire Department
Lunenburg, Nova Scotia
Awarded: April 21, 2018
30 years of service
Firefighter Robert G. Davis
Stony Plain Fire Department
Stony Plain, Alberta
Awarded: March 8, 2018
35 years of service
Captain David B. Burke
Kindersley Fire/Rescue Brigade
Kindersley, Saskatchewan
Awarded: July 3, 2018
40 years of service
Fire Chief Ronald D. Hope
Kindersley Fire/Rescue Brigade
Kindersley, Saskatchewan
Awarded: July 3, 2018
37 years of service
Deputy Fire Chief Rodney J. Stevens
Kindersley Fire/Rescue Brigade
Kindersley, Saskatchewan
Awarded: July 3, 2018
31 years of service
Deputy Chief Donald Bissell
Enilda-Big Lakes County Fire Service
High Prairie, Alberta
Awarded: April 12, 2018
38 years of service
Deputy Chief Patrick J. Phillips
North Saanich Fire Department
North Saanich, British Columbia
Awarded: May 22, 2018
42 years of service
Firefighter Gary R. Wilton
North Saanich Fire Department
North Saanich, British Columbia
Awarded: May 22, 2018
38 years of service
Firefighter J. Steven Moreton
North Saanich Fire Department
North Saanich, British Columbia
Awarded: May 22, 2018
36 years of service
Firefighter Chief Charles L. Hanan
North Saanich Fire Department
North Saanich, British Columbia
Awarded: May 22, 2018
35 years of service
Firefighter Gregory A. Smith
North Saanich Fire Department
North Saanich, British Columbia
Awarded: May 22, 2018
32 years of service
Firefighter John C. Latta
North Saanich Fire Department
North Saanich, British Columbia
Awarded: May 22, 2018
32 years of service
Fire Captain Dale R. Lefevre
Vegreville Emergency Services
Vegreville, Alberta
Awarded: April 24, 2018
30 years of service
Firefighter Roy E. Dagley
United Communities Fire Department
Voglers Cove, Nova Scotia
Awarded: June 16, 2018
32 years of service
Firefighter Chris P. Tumblin, MFR
United Communities Fire Department
Cherry Hill, Nova Scotia
Awarded: June 16, 2018
31 years of service
Firefighter David P. Veinotte
Mahone Bay & District Fire Department
Clearland, Nova Scotia
Awarded: May 26, 2018
43 years of service
Firefighter Jeff P. Veinotte
Mahone Bay & District Fire Department
Mahone Bay, Nova Scotia
Awarded: May 26, 2018
30 years of service
Firefighter Leo A. Veinott
Mahone Bay & District Fire Department
Oakland, Nova Scotia
Awarded: May 26, 2018
30 years of service
Fire Chief Richard L. Nowe, MFR
Mahone Bay & District Fire Department
Mahone Bay, Nova Scotia
Awarded: May 26, 2018
45 years of service
Firefighter Gary Crouse
Riverport Volunteer Fire Department
Riverport, Nova Scotia
Awarded: March 3, 2018
30 years of service
Captain Gerald F. Read
Hebbville Fire Department
Hebbville, Nova Scotia
Awarded: March 3, 2018
36 years of service
Fire Chief Dennis G. Ogg
Rosetown Fire Department
Rosetown, Saskatchewan
Awarded: July 1, 2018
41 years of service
Deputy Chief Ken Franklin
Rosetown Fire Department
Rosetown, Saskatchewan
Awarded: July 1, 2018
33 years of service
Firefighter Douglas R. Wolfe
North Queens Fire Association
Caledonia, Nova Scotia
Awarded: August 30, 2018
65 years of service
Fire Chief Murray M. Lohnes (Retired)
North Queens Fire Association
Caledonia, Nova Scotia
Awarded: August 30, 2018
40 years of service
Firefighter Clifton E. Wamboldt
North Queens Fire Association
South Brookfield, Nova Scotia
Awarded: August 30, 2018
43 years of service
Firefighter Peter L. Frank
North Queens Fire Association
South Brookfield, Nova Scotia
Awarded: August 30, 2018
33 years of service
Lieutenant Karl L. Carver
North Queens Fire Association
North Grafton, Nova Scotia
Awarded: August 30, 2018
36 years of service
Firefighter Thomas R. Cushing
North Queens Fire Association
Caledonia, Nova Scotia
Awarded: August 30, 2018
65 years of service
Captain David Caldwell
Cambellton Fire Department
Campbellton, New Brunswick
Awarded: August 30, 2018
38 years of service
Firefighter Stephen Himmelman
Hebbville Fire Department
Hebbville, Nova Scotia
Awarded: April 22, 2018
35 years of service
Captain Robert Kirkpatrick
President of CFFF (10 years)
Mississauga, Ontario
Awarded: September 8, 2018
34 years of service
Fire Chief Ronald T. Heisler
Qu'Appelle and District Fire Department
Town of Qu'Appelle, Saskatchewan
Awarded: August 30, 2018
31 years of service
Firefighter Gregory N. Pomeroy
St. Stephen Fire Department
Town of St. Stephen, New Brunswick
Awarded: September 20, 2018
30 years of service
Dispatcher Gerald D. Richards
St. Stephen Fire Department
Town of St. Stephen, New Brunswick
Awarded: September 20, 2018
33 years of service
Firefighter Jeff Richardson
Moores Mills Fire Department
Town of St. Stephen, New Brunswick
Awarded: September 20, 2018
37 years of service
Assistant Chief Allison G. Nordstrom
St. Stephen Fire Department
Town of St. Stephen, New Brunswick
Awarded: September 20, 2018
31 years of service
Dispatcher Walter P. Cooke
St. Stephen Fire Department
Town of St. Stephen, New Brunswick
Awarded: September 20, 2018
41 years of service
Captain G. Brad Makortoff
Castlegar Fire Department
City of Castlegar, British Columbia
Awarded: November 5, 2018
31 years of service
Firefighter Allan Thompson
Brooke Fire Rescue Department
Alvinston, Ontario
Awarded: December 7, 2018
30 years of service
Dispatcher Ruth Bell
Brooke Fire Rescue Department
Alvinston, Ontario
Awarded: December 7, 2018
30 years of service
Firefighter Scott McKellar
Brooke Fire Rescue Department
Alvinston, Ontario
Awarded: December 7, 2018
30 years of service
Fire Chief Dale M. Shaw
Eastern Charlotte Fire Service
Eastern Charlotte, New Brunswick
Awarded: October 27, 2018
40 years of service
Fire Chief (Retired) Lyle N. Smith
4 Valleys Volunteer Fire Department
Maryvale, Nova Scotia
Awarded: November 3, 2018
30 years of service
Captain Carroll J MacAdam
4 Valleys Volunteer Fire Department
Malignant Cove, Nova Scotia
Awarded: November 3, 2018
32 years of service
AWARD WINNERS 2017 Medal Recipients
Chief (Retired) Gordon W. Appleby, MFR
Martin's River Fire Department
Martin's River, Nova Scotia
Awarded: September 20, 2017
31 years of service
Captain Stephen Nauss
Petite Riviere Volunteer Fire Department
Crousetown, Nova Scotia
Awarded: November 25, 2017
30 years of service
Deputy Chief Donald M. Yez
Devon Fire Rescue
Town of Devon, Alberta
Awarded: January 8, 2017
37 years of service
Deputy Chief Dale M. Babiuk
Devon Fire Rescue
Town of Devon, Alberta
Awarded: January 8, 2017
32 years of service
Deputy Mayor / Fire Chief James E. Hayter
Alvinston Fire Rescue
Brooke-Alvinston, Ontario
Awarded: March 10, 2017
44 years of service
Fire Chief Edward C. Mulock, MFR (Ret)
LaHave & District Fire Department
Upper LaHave, Nova Scotia
Awarded: April 21, 2017
46 years of service
Deputy Mayor / Fire Chief Martin E. Bell
Conquerall Bank Fire Department
Conquerall Bank, Nova Scotia
Awarded: May 6, 2017
42 years of service
Firefighter Eric Banks
St. George Fire Department
Second Falls, New Brunswick
Awarded: September 1, 2017
34 years of service
Deputy Chief David W. Alexander (Ret.)
Ladysmith Fire Rescue
Town of Ladysmith, British Columbia
Awarded: September 1, 2017
40 years of service
Deputy Chief Dennis W. Fehr
Innisfail Fire Department
Innisfail, Alberta
Awarded: August 19, 2017
32 years of service
Captain Allison W. Gould
Elmsdale Fire & Emergency
Elmsdale, MOEH, Nova Scotia
Awarded: October 7, 2017
40 years of service
Firefighter Gordon L. Twa
Coronation Fire Department
Town of Coronation, Alberta
Awarded: February 27, 2017
35 years of service
Firefighter Charles E. Zwicker
Blockhouse & District Fire Department
Blockhouse, Nova Scotia
Awarded: November 16, 2017
42 years of service
Fire Chief Stuart E. Hirtle
Martins River Fire Department
Martins River, Nova Scotia
Awarded: December 9, 2017
38 years of service
Firefighter John Eldon Shaw
Invermere Fire & Rescue
MD Invermere, British Columbia
Awarded: February 27, 2017
35 years of service
Firefighter Edwin Rafuse, MFR
LaHave & District Fire Department
Upper LaHave, Nova Scotia
Awarded: April 21, 2017
51 years of service
Firefighter Hugh Devlin
Flin Flon Fire Department
Flin Flon, Manitoba
Awarded: May 27, 2017
36 years of service
Fire Chief John Syroid, (Ret.)
Innisfail Fire Department
Innisfail, Alberta
Awarded: August 19, 2017
41 years of service
Safety Officer Richard E. Hamburg
Pleasantville & District Fire Department
Pleasantville, MODL, Nova Scotia
Awarded: March 15, 2017
30 years of service
Firefighter Daniel J. Urban
Innisfail Fire Department
, Alberta
Awarded: August 19, 2017
34 years of service
Firefighter Ronald J. Huseby MFR
Innisfail Fire Department
Innisfail, Alberta
Awarded: August 19, 2017
40 years of service
Firefighter Wade Wilkie
Blockhouse & District Fire Department
Blockhouse, Nova Scotia
Awarded: November 16, 2017
35 years of service
Deputy Chief Wayne Swinimer
Brooklyn Volunteer Fire Department
Windsor, Nova Scotia
Awarded: November 25, 2017
30 years of service
Fire Chief Daniel J. Skaro
Oliver Fire-Rescue Department
Oliver, British Columbia
Awarded: January 28, 2017
32 years of service
Fire Chief David L. Ferguson (Ret.)
Cowichan Bay Volunteer Fire Department
Cowichan Bay, British Columbia
Awarded: September 1, 2017
27 years of service
Fire Chief J. Michael Mulock, MFR (Ret.)
LaHave & District Fire Department
MODL, Nova Scotia
Awarded: April 21, 2017
46 years of service
Fire Chief S. Roger Ekman
Invermere Fire & Rescue
MD Invermere, British Columbia
Awarded: February 27, 2017
32 years of service
Captain David W. Baker (Ret.)
Conquerall Bank Fire Department
Conquerall Bank, Nova Scotia
Awarded: May 6, 2017
50 years of service
Firefighter Alan Broughton
Flin Flon Fire Department
Flin Flon, Manitoba
Awarded: May 27, 2017
30 years of service
Firefighter A. George Cross
Conquerall Bank Fire Department
MODL, Nova Scotia
Awarded: June 5, 2017
40 years of service
Pompier Roger St-Jean, MFR (Ret.)
Service de securite incendie
Bromont, Quebec
Awarded: August 19, 2017
43 years of service
Deputy Chief John Stevens
St. George Fire Department
Second Falls, New Brunswick
Awarded: September 1, 2017
34 years of service
Fire Chief James L. Wamboldt, MFR
Conquerall Bank Fire Department
Conquerall Bank, Nova Scotia
Awarded: May 6, 2017
44 years of service
Firefighter Gerald (Gerry) R. Rhodenizer
Conquerall Bank Fire Department
MODL, Nova Scotia
Awarded: June 5, 2017
35 years of service
Firefighter Robin P. Jackson
Lunenburg & District Fire Department
Town of Lunenburg, Nova Scotia
Awarded: February 16, 2017
30 years of service
Fire Chief Delano H. Fehr, (Ret.)
Innisfail Fire Department
Innisfail, Alberta
Awarded: August 19, 2017
34 years of service
Honourary Chief Shawn MacDonald
Blockhouse & District Fire Department
Blockhouse, Nova Scotia
Awarded: July 11, 2017
30 years of service
Fire Chief Jean-Claude Doucet
St. Anne Fire Department
Saint-Anne, New Brunswick
Awarded: July 21, 2017
40 years of service
AWARD WINNERS 2016 Medal Recipients
Barry Schnare
Chester Fire Department
Village of Chester, Nova Scotia
Awarded: April 23, 2016
40 years of service
Dennis Stevens
Chester Fire Department
Village of Chester, Nova Scotia
Awarded: April 23, 2016
40 years of service
Forrest Cecile Owens
Central Saanich Volunteer Fire Department
Saanichton, District of CS, British Columbia
Awarded: October 15, 2016
30 years of service
Gary Morash
Chester Fire Department
Village of Chester, Nova Scotia
Awarded: April 23, 2016
35 years of service
Douglas E. Morash
Chester Fire Department
Village of Chester, Nova Scotia
Awarded: April 23, 2016
35 years of service
Graham Pawlett
Port Moody Fire & Rescue
Port Moody, British Columbia
Awarded: May 15, 2016
30 years of service
Grant Payne
Chester Fire Department
Village of Chester, Nova Scotia
Awarded: April 23, 2016
40 years of service
Hewitt Hardiman
Lunenburg & District Fire Department
Town of Lunenburg, Nova Scotia
Awarded: February 18, 2016
30 years of service
Michael Crocker
Central Saanich Volunteer Fire Department
Saanichton, District of CS, British Columbia
Awarded: October 15, 2016
32 years of service
Wayne R. Payne
Chester Fire Department
Village of Chester, Nova Scotia
Awarded: April 23, 2016
35 years of service
Richard George Hirtle
Lapland & District Fire Department
Lapland, MODL, Nova Scotia
Awarded: July 23, 2016
35 years of service
Ronald Clayton Thompson
Lapland & District Fire Department
Lapland, MODL, Nova Scotia
Awarded: July 23, 2016
35 years of service
Robert John Nelson
Central Saanich Volunteer Fire Department
Saanichton, District of CS, British Columbia
Awarded: October 15, 2016
40 years of service
Ronald Leon French
Central Saanich Volunteer Fire Department
Saanichton, District of CS, British Columbia
Awarded: October 15, 2016
32 years of service
Richard Eldridge
Chester Basin Fire Department
Chester Basin, MODC, Nova Scotia
Awarded: April 30, 2016
30 years of service
Terry Conrad
Lunenburg & District Fire Department
Town of Lunenburg, Nova Scotia
Awarded: February 18, 2016
30 years of service
Toshifumi Akimoto
Japan Firefighters Association
, Ontario
Awarded: October 21, 2016
30 years of service
Fire Chief Clair W. Prior, LAA Recipient
Irma Fire Department
Village of Irma, Alberta
Awarded: September 10, 2016
49 years of service
William (Bill) Falkenham
Chester Basin Fire Department
Chester Basin, MODC, Nova Scotia
Awarded: April 30, 2016
30 years of service
Gordon Delong
Chester Basin Fire Department
Chester Basin, MODC, Nova Scotia
Awarded: April 30, 2016
30 years of service
AWARD WINNERS 2015 Medal Recipients
Allan Schurman
Berwick & District Fire Department
Town of Berwick, Nova Scotia
Awarded: November 21, 2015
46 years of service
Amos M. Ewing
Waterville & District Fire Department
Village of Cornwallis Square, Nova Scotia
Awarded: December 22, 2015
65 years of service
Arnold Richard
Pleasantville Fire Department
Pleasantville, MODL, Nova Scotia
Awarded: December 5, 2015
40 years of service
Aubrey McCarthy
Hebb's Cross Fire Department
Conquerall Mills, MODL, Nova Scotia
Awarded: October 14, 2015
45 years of service
Barry L. Hiltz
New Ross Volunteer Fire Department
New Ross, MODC, Nova Scotia
Awarded: November 21, 2015
35 years of service
Blair Perry
O'Leary Volunteer Fire Department
O'Leary, Prince Edward Island
Awarded: December 15, 2015
30 years of service
Borden Oakley
Enfield Volunteer Fire Department
Oakfield, MODEH, Nova Scotia
Awarded: April 17, 2015
56 years of service
Brenton Stanley Corkum
Pleasantville Fire Department
Pleasantville, MODL, Nova Scotia
Awarded: September 12, 2015
35 years of service
Carson Lowe
Springfield & District Fire Department
Springfield, Nova Scotia
Awarded: December 22, 2015
40 years of service
Cathy Cooke
Waterville & District Fire Department
Waterville, Nova Scotia
Awarded: December 22, 2015
37 years of service
Chris Anderson
Riverport Volunteer Fire Department
Bayport, MODL, Nova Scotia
Awarded: March 14, 2015
37 years of service
Christopher MacDonald
Chester Fire Department
Robinson's Corner, MODC, Nova Scotia
Awarded: April 23, 2015
35 years of service
Clarence Grondin
Riverport Volunteer Fire Department
Bayport, MODL, Nova Scotia
Awarded: March 14, 2015
41 years of service
Darrel Geddes
Waterville & District Fire Department
South Waterville, Nova Scotia
Awarded: December 22, 2015
43 years of service
David Conrad
Riverport Volunteer Fire Department
Riverport, MODL, Nova Scotia
Awarded: March 14, 2015
30 years of service
David Galley
Waterville & District Fire Department
Grafton, Kings County, Nova Scotia
Awarded: December 22, 2015
41 years of service
Dean Ivan Nagel
Estevan Fire & Rescue
City of Estevan, Saskatchewan
Awarded: September 28, 2015
37 years of service
Derek W. John
Riverport Volunteer Fire Department
Riverport, MODL, Nova Scotia
Awarded: March 14, 2015
30 years of service
Diane Sawler
Western Shore and District VFD
Western Shore, MODC, Nova Scotia
Awarded: December 12, 2015
30 years of service
Donald R. Pinsent
Aylesford Fire Department
Aylesford East, MOCK, Nova Scotia
Awarded: December 22, 2015
50 years of service
Donald Zwicker
New Minas Fire Department
Village of New Minas, MOCK, Nova Scotia
Awarded: December 22, 2015
35 years of service
Donald J. Morine
New Minas Fire Department
Village of New Minas, MOCK, Nova Scotia
Awarded: December 22, 2015
35 years of service
Douglas M. Cross
Pleasantville Fire Department
Pleasantville, MODL, Nova Scotia
Awarded: December 5, 2015
40 years of service
Eugene Nerus Feener
Oakhill and District Fire Department
Whynott's Settlement, MODL, Nova Scotia
Awarded: November 12, 2015
42 years of service
Frank Sweet
O'Leary Volunteer Fire Department
O'Leary, Nova Scotia
Awarded: December 15, 2015
40 years of service
Fred Baxter
Springfield & District Fire Department
Springfield, Nova Scotia
Awarded: December 22, 2015
40 years of service
Gary Wayne Mader
Oakhill and District Fire Department
Oakhill, MODL, Nova Scotia
Awarded: November 12, 2015
42 years of service
George Clement Fairclough
Kentville Fire Department
Coldbrook, MOCK, Nova Scotia
Awarded: December 22, 2015
50 years of service
Gordon Allen Huff
Delta Fire & Emergency Services
Delta, British Columbia
Awarded: October 20, 2015
35 years of service
Hector Marshal
Blandford Fire Rescue Department
Bayswater, MODC, Nova Scotia
Awarded: April 25, 2015
40 years of service
Ira Barkhouse
Cornwall & District Fire Department
Middle Cornwall, MODL, Nova Scotia
Awarded: May 3, 2015
36 years of service
Ira Sawler
Western Shore and District VFD
Western Shore, MODC, Nova Scotia
Awarded: December 12, 2015
40 years of service
James S. Franey
Aylesford Fire Department
Aylesford, MOCK, Nova Scotia
Awarded: December 22, 2015
50 years of service
James E. Redmond
New Minas Fire Department
Village of New Minas, MOCK, Nova Scotia
Awarded: December 22, 2015
40 years of service
Jerrold John Lemko
Vegreville Emergency Services
Town of Vegreville, Alberta
Awarded: September 12, 2015
25 years of service
John H. Yates
Cornwall & District Fire Department
Upper New Cornwall, Nova Scotia
Awarded: May 2, 2015
35 years of service
Kenneth Ward Davie
Delta Fire & Emergency Services
Delta, British Columbia
Awarded: October 16, 2015
46 years of service
Laurence Freeman
Kingston District Fire Department
Kingston, MOCK, Nova Scotia
Awarded: December 22, 2015
46 years of service
Lawrence Roy Bolivar
Oakhill and District Fire Department
Oakhill, MODL, Nova Scotia
Awarded: April 12, 2015
42 years of service
Lawrence Sawler
Western Shore and District VFD
Western Shore, MODC, Nova Scotia
Awarded: December 15, 2015
45 years of service
Lloyd John Publicover
Blandford Fire Rescue Department
Blandford, MODC, Nova Scotia
Awarded: April 25, 2015
45 years of service
Malcolm Spencer
Waterville & District Fire Department
Waterville, Nova Scotia
Awarded: December 22, 2015
37 years of service
Mark Allen Lucas
Vegreville Emergency Services
Town of Vegreville, Alberta
Awarded: October 15, 2015
34 years of service
Mervyn W. Mossman
New Germany Volunteer Fire Department
New Germany, MODL, Nova Scotia
Awarded: April 26, 2015
41 years of service
Michael Eisnor
Waterville & District Fire Department
Waterville, Nova Scotia
Awarded: December 22, 2015
42 years of service
Michael D. Keith
Waterville & District Fire Department
Cambridge, Kings County, Nova Scotia
Awarded: December 22, 2015
33 years of service
Mike Slauenwhite
Western Shore and District VFD
Gold River, MODC, Nova Scotia
Awarded: December 12, 2015
30 years of service
Morris A. Williams
Unliacke & District Volunteer Fire Department
Mount Uniacke, Nova Scotia
Awarded: April 17, 2015
50 years of service
Neil Larder
Kingston District Fire Department
Kingston, MOCK, Nova Scotia
Awarded: December 22, 2015
30 years of service
Peter Elliott
New Ross Volunteer Fire Department
New Ross, MODC, Nova Scotia
Awarded: November 21, 2015
35 years of service
Robert Doyle
East River Fire Company
Mount Stewart, Prince Edward Island
Awarded: August 22, 2015
37 years of service
Robert Leigh Dauphinee
Northfield District Fire Department
West Northfield, Nova Scotia
Awarded: September 29, 2015
59 years of service
Robert L. Haughn
Pleasantville Fire Department
West Lahave, MODL, Nova Scotia
Awarded: December 5, 2015
49 years of service
Robert Baker
Kingston District Fire Department
Greenwood, Kings County, Nova Scotia
Awarded: December 22, 2015
30 years of service
Robert Spencer
Waterville & District Fire Department
Waterville, Nova Scotia
Awarded: December 22, 2015
37 years of service
Roger Hiltz
West Lahave, MODL, NS
Western Shore, MODC, Nova Scotia
Awarded: December 12, 2015
30 years of service
Ronald Eldon Deamond
Oakhill and District Fire Department
Oakhill, MODL, Nova Scotia
Awarded: November 12, 2015
42 years of service
Ronald Rafuse
Waterville & District Fire Department
Waterville, Nova Scotia
Awarded: December 22, 2015
44 years of service
Ronald Aker
Springfield & District Fire Department
Springfield, Nova Scotia
Awarded: December 22, 2015
40 years of service
Ross Conrad
Riverport Volunteer Fire Department
Riverport, MODL, Nova Scotia
Awarded: March 14, 2015
36 years of service
Roy Lohnes
Western Shore and District VFD
Western Shore, MODC, Nova Scotia
Awarded: December 12, 2015
40 years of service
Sam S. A. Milne
New Minas Fire Department
Village of New Minas, MOCK, Nova Scotia
Awarded: December 22, 2015
50 years of service
Scott A. Reeves
New Ross Volunteer Fire Department
New Ross, MODC, Nova Scotia
Awarded: November 21, 2015
30 years of service
Scott Drummond
Petite Rivière Volunteer Fire Department
Crousetown, Nova Scotia
Awarded: November 30, 2015
34 years of service
Sheldon Fudge
New Ross Volunteer Fire Department
New Ross, MODC, Nova Scotia
Awarded: November 21, 2015
35 years of service
Stephen Workman
New Ross Volunteer Fire Department
New Ross, MODC, Nova Scotia
Awarded: November 21, 2015
40 years of service
Stuart Griffin
Port Williams Fire Department
Village of Port Williams, Nova Scotia
Awarded: December 22, 2015
55 years of service
Terry Zwicker
Western Shore and District VFD
Western Shore, MODC, Nova Scotia
Awarded: December 15, 2015
45 years of service
Terry Rafuse
Western Shore and District VFD
Western Shore, MODC, Nova Scotia
Awarded: December 12, 2015
35 years of service
Tim Oakes
Petite Rivière Volunteer Fire Department
Petite Rivière, MODL, Nova Scotia
Awarded: November 30, 2015
32 years of service
Vaughn Gates
Waterville & District Fire Department
South Waterville, Nova Scotia
Awarded: December 22, 2015
37 years of service
Vincent Lohnes
Springfield & District Fire Department
Springfield, Nova Scotia
Awarded: December 22, 2015
40 years of service
Watson Silliker
O'Leary Volunteer Fire Department
O'Leary, Nova Scotia
Awarded: December 15, 2015
30 years of service
Watson Armstrong
Kingston District Fire Department
Kingston, MOCK, Nova Scotia
Awarded: December 22, 2015
38 years of service
Wayne Burton
Petite Rivière Volunteer Fire Department
Petite Rivière, MODL, Nova Scotia
Awarded: November 30, 2015
45 years of service
Wayne Johnstone
Waterville & District Fire Department
Waterville, Nova Scotia
Awarded: December 22, 2015
39 years of service
Wendell B. Pineo
Kingston District Fire Department
Kingston, MOCK, Nova Scotia
Awarded: December 22, 2015
42 years of service
William Creaser
Riverport Volunteer Fire Department
Riverport, MODL, Nova Scotia
Awarded: March 14, 2015
40 years of service
AWARD WINNERS 2014 Medal Recipients
Bruce M. Veinotte
Northfield District Fire Department
West Northfield, Nova Scotia
Awarded: November 15, 2014
42 years of service
Cleveland Conrad
United Communities Fire Department
Voglers Cove, Nova Scotia
Awarded: November 15, 2014
41 years of service
Cyril McInnis
Tri District Fire Rescue
Chelsea, MODL, Nova Scotia
Awarded: November 15, 2014
50 years of service
Malcolm E. Noble
Elmsdale Fire & Emergency
Elmsdale, MOEH, Nova Scotia
Awarded: June 25, 2014
52 years of service
Oran F. Hyson
Lunenburg & District Fire Department
Town of Lunenburg, Nova Scotia
Awarded: September 13, 2014
42 years of service
Randall Knox
Tri District Fire Rescue
Baker Settlement, MODL, Nova Scotia
Awarded: November 15, 2014
30 years of service
Raymond Francis
Lunenburg & District Fire Department
Town of Lunenburg, Nova Scotia
Awarded: September 13, 2014
32 years of service
Ronald S.A. Seney
New Germany Volunteer Fire Department
Meisners Section, Nova Scotia
Awarded: June 26, 2014
35 years of service
Wayne J. Hearn
Harley Fire Department
Harley Township, Ontario
Awarded: September 13, 2014
31 years of service
AWARD WINNERS 2013 Medal Recipients
Douglas A.C. Porter
Pleasantville Fire Department
West Lahave, MODL, Nova Scotia
Awarded: July 12, 2013
30 years of service
Gordon E. Whynacht
Petite Rivière Volunteer Fire Service
Petite Rivière, MODL, Nova Scotia
Awarded: December 14, 2013
50 years of service