Chief (Retired) Martin Bell Recognized with the Lifetime Achievement Award by the Canadian Volunteer Fire Services Association
PRESS RELEASE
For Immediate Release
16 July 2019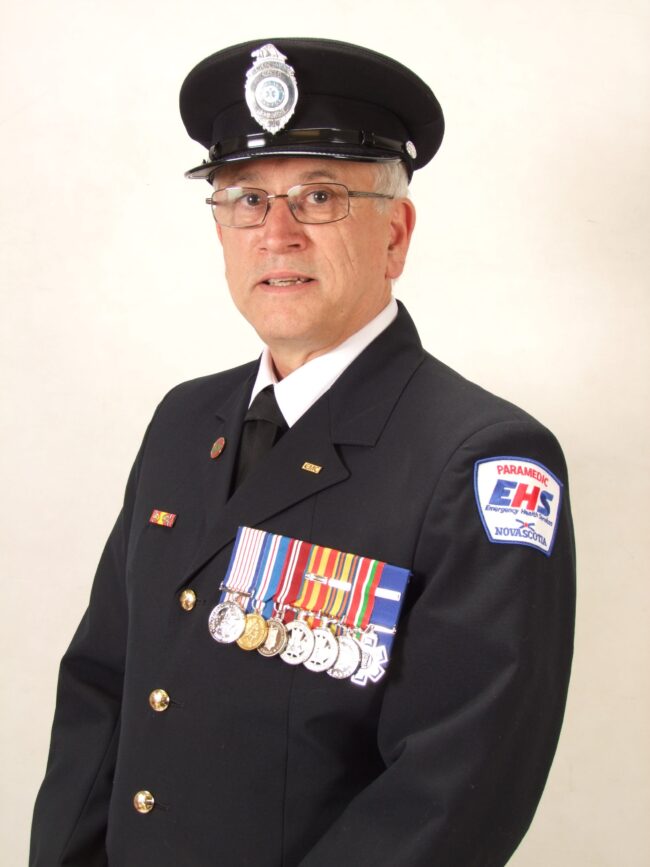 The Canadian Volunteer Fire Services Association (CVFSA) is pleased to announce that Chief Martin Bell from Conquerall Bank, Nova Scotia is the 2019 recipient of the Lifetime Achievement Award©.
This prestigious award honours an individual whose remarkable achievements in the fire service and community exemplifies outstanding performance.
"We are deeply proud of Chief Bell and the many contributions he has made during his years of service as a volunteer firefighter" said Graham Pawlett, National President of the CVFSA. "This year marks the 20th anniversary of the Association. Chief Bell is a Charter Member and we are thrilled that the committee has selected him as this year's recipient."
Chief Bell joined the Conquerall Bank Fire Department in 1973, rose through the ranks, and served as Chief for 15 years. He attended many training sessions at the Nova Scotia Firefighters School and was a volunteer instructor at the Fire School for five years.
Martin encouraged his firefighters to set high goals for themselves. One of these goals was to build a new fire hall which included apparatus storage and a recreational hall in one building.  Martin trained a Medical Response team in CPR and advanced first aid, purchased an AED, and a second-hand ambulance and was one of the first fire departments in the province to provide MFR services outside of Halifax-Dartmouth.
As a firm believer in personal community involvement, Chief Bell undertook leadership roles in his local fire department, the community, and on provincial Boards. Martin has served in senior positions on provincial and national Boards as well. On several occasions he has provided leadership on financial strategies such as his work on the Audit and Finance committees for the Canadian Fallen Firefighters Foundation where he served six terms. He has continued his leadership role in this respect for nearly two decades.
Martin was elected to Municipality of the District of Lunenburg Council in October 2000, representing District 13 Conquerall Bank, Pleasantville, West Lahave, New Cumberland, Mount Pleasant, Lake Center, Conquerall Mills and part of Hebbville. Chief Bell was re-elected in October 2004 to represent District 13. In October 2008 Martin was elected, representing District 11 after the boundaries were changed. He was also re-elected in 2012 and 2016. In November 2009 and again in 2017 he was selected to serve as Deputy Mayor for a one-year term.
Chief Bell serves, or has served on a number of municipal committees such as the Audit & Finance Standing Committee, CAO Evaluation Committee, Communications & Public Relations Standing Committee, Dangerous & Unsightly Property Committee, Fire & Emergency Services Committee, Growing Green Sustainability Festival (TOB), and the RCMP Police Advisory Board.
About the CVFSA Lifetime Achievement Award©
Recipients of the Lifetime Achievement Award© must have been a volunteer firefighter or volunteer-on-call firefighter for at least 20 years and are evaluated against a number of criteria:
Contributions or significant accomplishments in the volunteer fire service on a local/municipal, provincial, and/or national level outside their own jurisdiction.
Superior dedication to the volunteer fire service.
Involvement in their provincial firefighter's association or beyond their own community.
Community impact to other volunteer community service groups in addition to the work done as a firefighter.
The selection of the CVFSA Lifetime Achievement Award© recipient is determined through a nation-wide nomination and adjudication process. The recipient will be officially recognized at the Annual Conference and AGM of the CVFSA in Wolfville, Nova Scotia on Saturday, August 17, 2019.
The CVFSA Lifetime Achievement Award© is unique because of the many benefits that flow to the community of the recipient. This is referred to as the Legacy Package and the value to the community is approximately $50,000. This year, Chief Bell and the community of Conquerall Bank will receive the following:
All expenses paid trip to attend CVFSA Conference & AGM for the presentation of the award for the recipient.
Complimentary one-year CVFSA Personal Membership.
Crafted, personalized, limited-edition mouth blown, hand cut crystal vase trophy.
Recognition on the CVFSA website as a recipient of this honour.
200 First Alert smoke alarm units donated to the community or fire department.
A donation to the local Community Food Bank or Community Benevolent Fund
Scott Plastics / Scotty Firefighter products.
Other firefighting equipment donations.
Martin has been married to his wife Cheryl for forty one years. Together they have three children. Both Martin and his wife Cheryl will attend the CVFSA's Annual Conference & AGM in Wolfville, NS on August 16th and 17th to receive this award. (Awarded August 17th)
###
About the CVFSA
The Canadian Volunteer Fire Services Association (CVFSA) is the only national organization whose sole purpose is to represent volunteer fire and emergency first responders and volunteer emergency medical services (EMS) personnel. Since 1999, we've proudly supported volunteer fire and EMS departments across Canada through our advocacy, education seminars, insurance programs, web site, resources, and government representation.
For additional information, please visit cvfsa.ca
Contact
Mark Pound
Chairperson for the, 2018 "CVFSA Lifetime Achievement Award"\
902-678-2786
Mark.P@cvfsa.ca