FINAL Press Release – 2020 D.S. Antle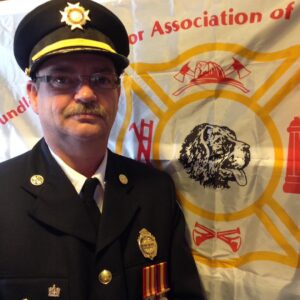 PRESS RELEASE:  December 17th
The Canadian Volunteer Fire Services Association (CVFSA) is proud to announce that Fire Chief Duane S. Antle of Come By Chance Newfoundland is the recipient of the 2020 CVFSA Lifetime Achievement Award.  Chief Antle was selected by a committee of four volunteers from across Canada who reviewed all nominations.
Duane Antle joined the Victoria Newfoundland Fire Department in 1994 where he served as a training officer, lieutenant, captain and assistant chief until 2001.  He has also served as a training officer and rescue officer in the Southwest Arm Fire Department.  He joined the Come By Chance Fire Department in 2004 where he served as training officer and assistant chief.  In 2009 he was appointed Fire Chief, a position he holds today.
Chief Antle was instrumental in initiating a CISM peer support group for departments in Come By Chance and neighbouring communities.  As an active member of the CISM team he often responds personally to debriefing and defusing sessions.
His dedication to his community is demonstrated by his goal to improve fire service while sitting on local committees and with an initiative to ensure all homes in his region were equipped with two working smoke detectors at no charge.  He has also organized specialty training in Autism Awareness throughout Newfoundland and Labrador.  To date over 3500 first responders have taken part.
He was elected President of the Newfoundland and Labrador Association of Fire Services in 2015 after his participation in the Association for many years.
"On behalf of Council, staff and myself, I want to congratulate Fire Chief Duane Antle on being recognized for such a prestigious award. It is well deserved, and our town and Province are lucky to have him on our side. Duane goes above and beyond anytime he is needed. Keep up the great work, Chief!", says Come By Chance, Mayor Chad Giles.
The 2020 CVFSA Lifetime Achievement Award program is supported by Duracell.
*Due to COVID 19 restrictions the announcement this year will be made virtually.