Welcoming Our International Delegation from Japan
During the 2018 CVFSA Annual Conference and AGM, we were honoured to host an international delegation from Japan.
Attending the conference from the Japan Firefighters Association International Division were Assistant Chief Hiroshi Fukuchi, Senior Researcher for the National Research Institute of Fire and Disaster Nobuhito Ohtsu, and Fire and Disaster Management Agency Assistant Manager Naomi Okazawa.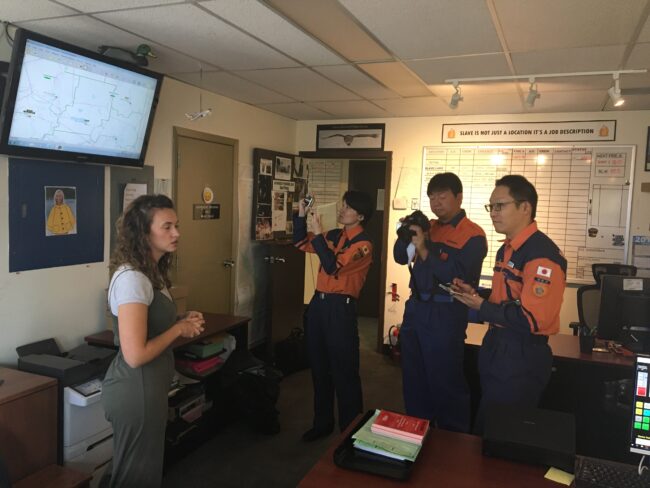 Assistant Chief Hiroshi Fukuchi presented a talk on firefighting practices in Japan. An item of interest in his presentation was that, while there are 2,200 volunteer fire departments in the country, the number of volunteer firefighters has dropped over the past 20 years from 1,944,000 to 856,000 and among those numbers there are 23,800 female firefighters and 3,200 college students. By way of comparison, in Canada as of 2016, there were 3,061 volunteer departments with 126,650 volunteer firefighters. Assistant Chief Fukuchi stated that the municipalities do not pay the firefighters, but instead they continue to be paid by their employers when responding to calls.
Assistant Chief Fukuchi noted that he particularly enjoyed the various tours of the fire hall, the hospital, the Marten Tower, the guided helicopter tour of the 2011 burn area, and the propane fire attack training.
Ms. Okazawa shared a number of observations that struck her as notable. First was that the method of mapping at the Forestry and Wildfire Office by using colors, flags and wire looked efficient and effective. She also commented that while the use of Fire Towers was a manual process, it still appeared to be the most reliable way to watch for wildfires. She shared that she enjoyed the guided helicopter tour and the tour of the community in the rescue truck and was impressed by the stories of the 2011 wildfire survivors.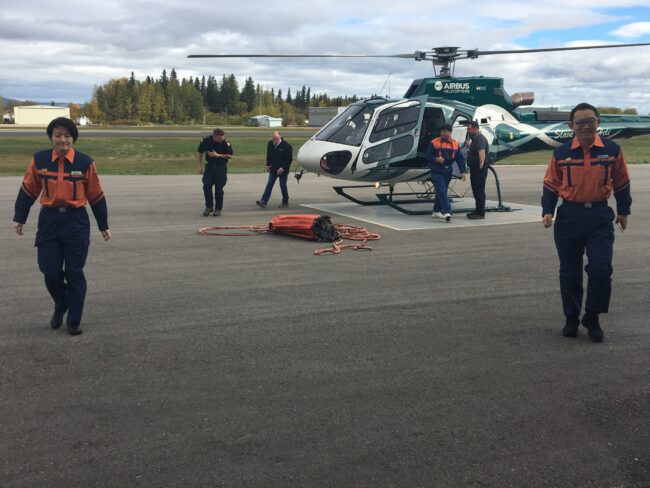 Mr. Ohtsu reported that he was also impressed with the mapping process at the Wildland Fire Base, and with the Incident Command System, specifically that it can be used not only for firefighting, but also for organizing any major community event. When asked if he wanted to return to the hotel for a rest, he said that he would rest at the Fire Hall so that he could "take in" all the conference activity that was happening there.
The delegation indicated that they were most appreciative of the hospitality extended to them by the community and the members of the fire industry.